Antonine Itinerary X
Medieval copies survive of a List of Roman Routes known as the Antonine Itineraries, which is believed to date from the early 3rd Century. It consists of a series of place names and the distance between them. The route of interest for Lancashire is the so called Xth Iter which follows a contentious route, North to South, through Ribchester and Manchester. A Roman mile (approximately 1500 metres) is coincidentally close to the British statute mile and it is, therefore, possible to make a direct comparison between the distances given in the Iter and the mileage by known routes between Roman sites.
With Ribchester only known for certain it is difficult to interpret and therefore prove routes or names. The itineraries are notorious for copying errors only adding to the difficulty. However, we now know the road network much more securely. This rules out several previous suggestions where there are simply no road connections. Yes the solution I put forward had many distance anomolies- those copying errors? - but it uses real roads.
The full Xth Iter is as follows:-
| | | | | | |
| --- | --- | --- | --- | --- | --- |
| Roman Name | Distance in Iter X | Tradional | Shotter | IG Smith | Ratledge*** |
| in Iter X | Roman Miles | Location | Location* | Location* | Location |
| | | | | | |
| GLANOVENTA | | Ravenglass | Ambleside | Ambleside | Ambleside |
| | XVIII 18 | | | | 20 |
| GALAVA | | Ambleside | Low Borrow Br | lost | Hincaster |
| | XII 12 | | | | 13 |
| ALONE | | Kendal | Over Burrow | Lancaster | Lancaster |
| | XVIIII 19 | | | | 13.5 |
| GALACVM | | Over Burrow | Lancaster | Over Burrow | Over Burrow |
| | XXVII 27 | | | | 30 |
| BREMETENNACVM | | Ribchester | Ribchester | Ribchester | Ribchester |
| | XX 20 | | | | 24 via Fulwood |
| COCCIVM | | Wigan | Wigan | Wigan | Wigan |
| | XVII 17 | | | | 17 |
| MANCVNIVM | | Manchester | Manchester | Manchester | Manchester |
| | XVIII 18 | | | | 23.5 |
| CONDATE | | Northwich | Northwich | Northwich | Middlewich |
| | XVIIII 19 | | | | 20 |
| MEDIOLANVM | | Whitchurch | Whitchurch | Whitchurch | Whitchurch |
| Total | CL 150 | | | | |
* D. Shotter, Romans and Britons in North West England, 1997
** I.G. Smith, Britannia 1997
*** based on known roads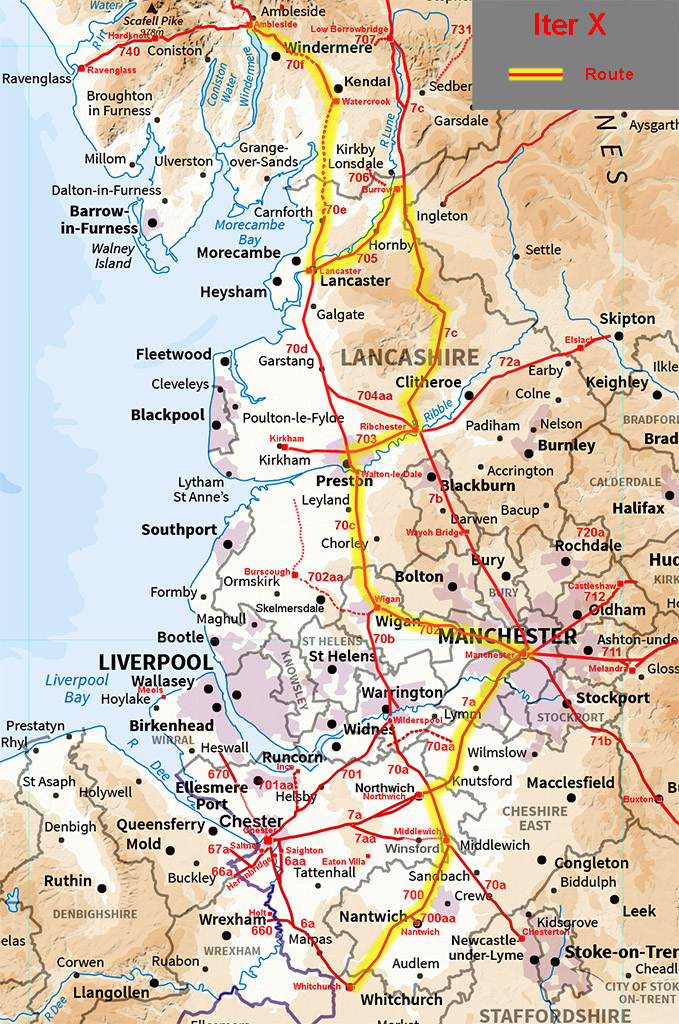 Ravenglass is no longer believed to be Glanoventa and the OS Roman Britain Map 5th Edition places Glanibanta (=Glanoventa) at Ambleside. Coccio/Coccium is now almost certainly confirmed as Wigan and its distance from Ribchester is given as 20 miles. The only known route between them is west to Fulwood and then south via Walton-le-Dale. This totals 24 miles. If there were a route via the south bank of the Ribble to Walton-le-Dale this would reduce the distance to 22 miles. A direct route however would be a better match at 20.5 miles but evidence is so far not forthcoming. Ribchester to Over Burrow is 29 miles and is a reasonable match to the 27 miles to Galacum, Ribchester to Lancaster being only 20.5 miles. Wigan to Manchester is 17 miles, a good agreement.
Construction
These were Britain's first engineered roads. Built to engineering priciples with a foundation of larger stones overlaid with smaller stones down to dust. This built-up road or agger was around 60 to 90 cm thick and cambered. We get the term highway from this built up format. In Lancashire they seem to be typically around 7 to 8 metres wide over the ditches. There is also evidence that they comprised 4 ditches - see figure - with the agger in the middle third. These were no country lanes but majore highways.

In proving a Roman road, one must appreciate that the general construction consisted of a built-up causeway with side ditches. The contruction comprised of a foundation layer of a large stones and then layers of smaller stones building up a cambered ridge, some two feet or more above general ground level. This pronounced ridge, known as an or 'agger', and the straight alignments with changes of direction, often on high points, are the common visual features. In areas where suitable stone was readily available, excavation or borrow pits can sometimes be found alongside the roads. The Croasdale crossing appears to have several. Where stone was not available then the foundation course could be made up of clay. The appears to have been the case on the Fylde. They were probably the first contructed roads in the country and the term "highway" aptly describes their built-up nature.
How the Romans designed or set out their roads is the subject of much debate. The more you study their roads the more it becomes obvious they were expert surveyors - routes were not selected by chance. Donald Haigh is Saddleworth 712 describes it well "More accurately, Roman roads were made up of a number of straight lengths or alignments, with a change of direction taking place usually at a precise alignment angle, often upon high ground. Such roads were planned by competent surveyors, well briefed about the landscape with its advantages and obstacles. These obstacles were met by short straight lengths of road, terraces or zigzags, and the original line returned to as soon as possible". That last point is true in Lancashire. The road north from Ribchester didn't head straight for Jeffry Hill but returned to the setting out alignment first and then headed for Jeffry Hill. The same methodology seems to have been used at Wigan. It would appear that the road engineers were following standard practice or probably an instruction manual.
Perhaps one area where Donald Haigh was not totally correct is that in Lancashire we have several examples of the change of alignment being curved. The most most famous being at 1400 feet on the Croasdale fells but this is not unique. The debate on how they set out their roads will rumble on but you cannot but be impressed with the skills they employed in selecting their routes.
The Roads today
At the time of the early Ordnance Survey surveyors and up to Watkin's time, (i.e. mid 19th Century), visible remains would appear to have been plentiful but most have now disappeared either under urban sprawl or by intensive cultivation and deep mechanical ploughing. Routes can still be detected on aerial photographs and now with Lidar but skilled archaeological excavation is usually desirable for definite proof.
Generally, Roman roads left such a permanent mark on the landscape that they were incorporated in later features, the most obvious being where they coincide with existing roads. It is true that in Lancashire there are no very long lengths of road exactly on a Roman alignment but there are many intermittent examples. Other features such as lesser paths, farm tracks, hedgerows and old parish boundaries, are known to coincide with Roman alignments. Place names can also give clues to Roman Roads, particularly 'Street', i.e. Stretford (Street-Ford). Unfortunately, Lancashire has examples where a "street" name does indicate a Roman raod and examples where it does not! Several Roman milestones have also been discovered and are very useful indicators of alignments.