The Western Stanegate Roman Road, Margary 85
The forts of Burgh 1 and Kirkbride pre-date Hadrian's Wall and are considered contemporary with the Stanegate forts east of Carlisle. The proposal for a western road extension of the Stanegate serving them has often been suggested. In truth they would have needed road connections. Professor Barri Jones was probably at the forefront of researching this and in addition to recording a short length of road at Finglandrigg also proposed a linear palisade. However, he appears to have thought the road went via Burgh by Sands but we now know it took a much more direct course.
Lidar coverage for the whole route has now been released and this confirms the route of the road virtually all the way to Kikbride.
NEW - Video flyover - see link at bottom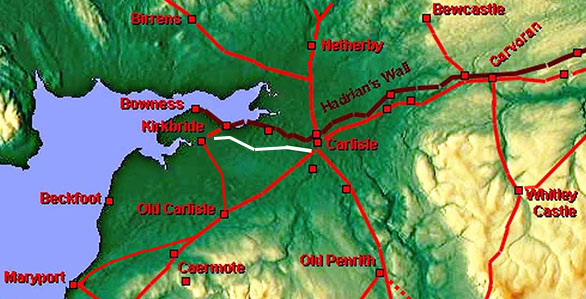 Reference
Professor G.D.A. Jones & D.J. Woolliscroft, Hadrian's Wall from the Air, 2001
Despite references to a road on Finglandrigg he concentrates more on running ditches and watch towers. Somewhat frustratingly lacking in detail for us.
---