The Maiden Way, Margary 84
Part 2: Whitley Castle to Carvoran, 11.25 miles
We continue along Maiden Way into Northumberland now and up the South Tyne Valley to Carvoran. Carvoran was a Stanegate Fort , which preceded Hadrian's Wall by around 50 years. This road would probably be the only route in and out of Whitley Castle (nr. Alston) in the mid-winter months when snows typically block off the high roads. In terms of transporting the lead from the extensive mines at Whitley Castle then it also represented by far the easiest way out.
I was surprised to find much of what is shown as the route on modern OS mapping is incorrect. I have therefore used OS/Bing mapping for the route maps so the discrepancies will be evident..
The name Maiden Way properly refers to the Roman road from Kirkby Thore to Carvoran via Whitley Castle. It was so called by Camden and the name can be traced back to the twelfth century (Maydengathe, Maidingate, Maidengate, occurring c. 1179 and 1294). Suggestions that it extended to Bewcastle are somewhat speculative as can be seen from the map the two roads do not link directly. According to Collingwood the name probably derives from Maiden Castle on the Stainmore road - see map and link to Collingwood below.
For a full discussion of the derivation of the name Maiden Way and the reasons for the road see Collingwood.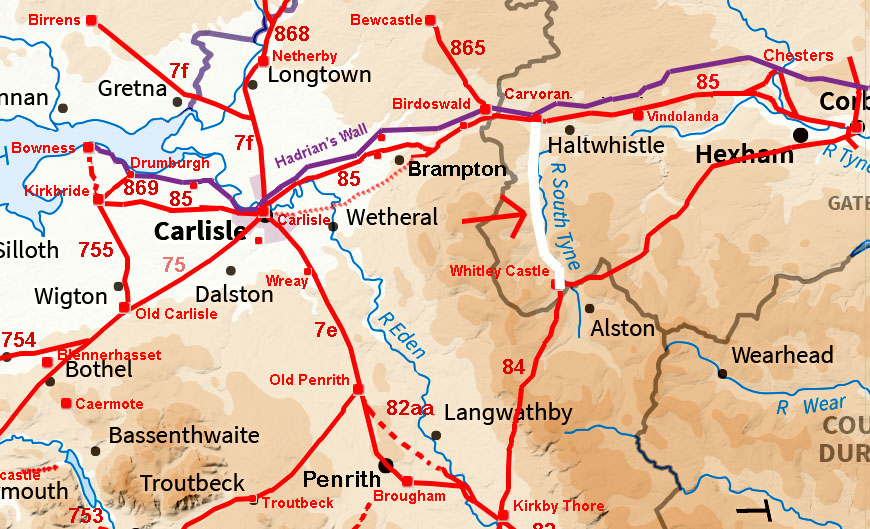 Video flyover from Whitley Castle to Carvoran