Papcastle to Keswick, Margary 753
Logically it would be expected that the Romans had a link road from Papcastle towards Keswick to join up with the Ambleside to Old Penrith road, Margary 741, in the vicinity of Keswick. Keswick has always been suspected as a missing fort site and, as we shall see later, perhaps we at last have a clue as to its location.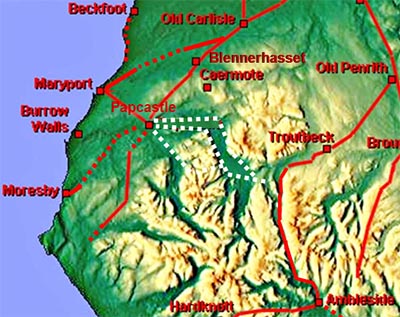 At least 3 options for the route going via:-
1. Whinlatter and Lorton Vale - suggested many times but evidence is proving very elusive. This is actually the route Margary designates as 753.
2. West of Bassenthwaite Lake - route favoured by the late Hugh Toller and there is some supporting Lidar evidence.
3. East of Bassenthwaite Lake - on the face of it an odd suggestion but this was normal route from Keswick to Cockermouth until recent times.
.
---